AWARDED. SHANTA PATEL, Founder of Pragmatic Solutions, Inc., with the 2005 Gold Star Entrepreneur of the Year Award by the Virginia Minority Supplier Development Council for demonstrating commitment to supplier development and fostering relationship with corporate community.
ALLOCATED. IN THE US BUDGET $691 million to Pakistan. Allocation represents $300 million for economic support, $300 million for foreign military financing, $40 million for international narcotics control, $29 million for development assistance; $20 million for child health and $2 million for military training.
SWORN. KAHAN S. DHILLON as the youngest president of the Mt. Vernon Lee Chamber of Commerce. He is the managing Partner of Regent Company, a real estate investment firm.
APPOINTED. VIJAY NAMBIAR, India's deputy national security adviser, as the adviser to UN secretary-general Kofi Annan. Earlier Nambiar was India's permanent representative at the UN in New York.
RECRUITED. HARCHARAN SINGH by the Pakistan Army, as the first Sikh officer ever. 19 year old Sikh youth cleared Inter Services Selection Board exams in his second attempt to become the first Hindu or Sikh to join Pakistani military.
AWARDED. DR. SP AGARWAL Pravasi Bharat Sevak award by Gov. Ehrlich of Maryland. A social scientist, Agarwal is a renowned Gita scholar and author of many books.
AWARDED. SABEEHA MERCHANT with the Gilbert Morgan Smith Medal and $20,000 by the US National Academy of Sciences. Born in Mumbai, Merchant is a professor of biochemistry at UCLA. She was chosen for her research on green algae.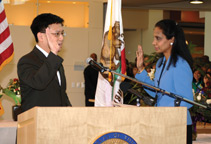 APPOINTED. SELVI STANISLAUS as the Executive Officer of the Franchise Tax Board, the tax collecting agency of California. A graduate of Sri Lanka Law College, Selvi and her husband immigrated to California in 1986.
Source: Pragmatic news release; Reuters; Pakistan Military Consortium; PTI; FTB; US National Academy of Sciences.