Signs of Unbreakable Sixth Sense!
Pondicherry-born Manoj Night Shyamalan is a master of suspense whose four films have grossed over $725 million. In an amazingly short period of time, 35 year old has achieved tremendous success. But that is not the only thing that he achieved.
According to confidential movie budgets obtained by Smoking Gun, Shyamalan has earned an average of $9 million for each of these movies. His stars did even better. Mel Gibson got $25 for Signs, Bruce Willis got $14 and $20 for The Sixth Sense and Unbreakable respectively.
Not bad for a writer/director who once told BBC, "I'm intensely boring, so that creates a need to be exciting in other forms".
Waterborne Skips to Google
Director Ben Rekhi skipped the traditional distribution model for his film, Waterborne, and decided to embrace Google's download-to-own model.
One of the first films to be offered in Google Video Store, Waterborne, depicts the fictional aftermath of terrorist attack on the water supply of LA. A Sikh family played by Shabana Azmi and Ajay Naidu get caught up the ensuing racial discrimination.
A Good Year For Archie Punjabi
British actress Archie Punjabi, who played Pinky Bhamra in Bend It Like Beckham is in a Russell Crowe movie, A Good Year. Directed by Ridley Scott and set to be released on April 7th 2006, the movie is based upon a Peter Mayle novel by the same name. The movie chronicles the relocation of a failing London banker, Russell Crowe, to Provence, France, after inheriting a vineyard. The plot thickens when he encounter a beautiful Californian who has her own claim on the estate.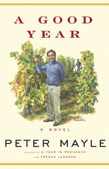 Archie had earlier won critical acclaim for her title role in Yasmin, the story of a Pakistani woman who finds herself ostracized and increasingly subjected to Islam-phobia in post 9/11 UK.
The First Time

Though she did not get to win a Grammy, she still achieved a first. For the first time an Indian performed at the Grammy when Anoushka Shankar opened the pre-telecast with her performance of Voice of The Moon from her fourth album Rise. She was nominated for the best contemporary world music album along with Asha Bhosle. The Grammy went to Gilberto Gil.
Still the One: Big B Dubs For Penguins
Amitabh Bachchan in a documentary! Big B is going to lend his distinctive baritone voice to a Hindi version of a French documentary, March of Penguins, so says Hindustan Times. The Luc Jacquet film, produced for $1 million has already grossed well over $75 million in the US. Mumbai based Alliance Media, which bought the Indian rights wants to replicate that success with Big B.
Jah What???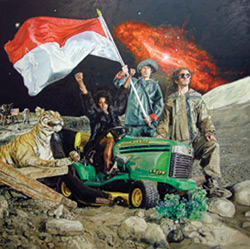 The Berlin based group, Jahcoozi, is making goodly number of waves amongst the South Asian music aficionados and fans of Sri Lankan Sasha Perera, the lead singer. The group came together in 2003 and gained notoriety while playing on the Berlin underground circuit, perhaps trying to emulate the Beatles' journey to stardom. It is making a name for doing freaky shows at clubs, open-airs and festivals in Germany and Switzerland. Fans and critics alike have tried to describe the sound of Jahcoozi as blip hop, ragga-tech, RnB punk and click pop illectronica. Singer Sasha Perera, bassist Oren Gerlitz and drummer Robot Koch released their first album, Fish, in 2003 and their latest CD, Pure Breed Mongrel, last year. Londoner Sasha also also appeared with Modeselektor, another German band.