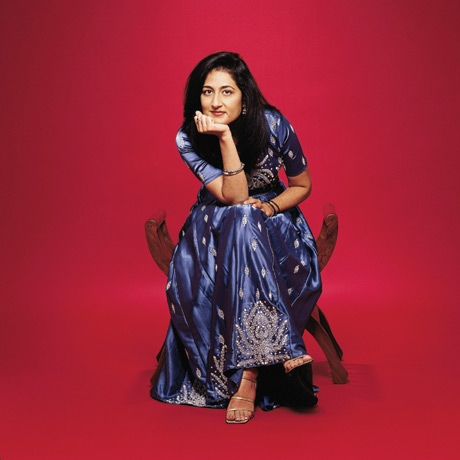 Like many South Asian young women, when renowned ghazal singer Kiran Ahluwalia had completed her undergraduate education and found a job, her parents were eying young men in hopes of planning a wedding. She, however, feared growing old without doing the one thing she dreamed of. So, when Kiran casually announced to her mother one Sunday afternoon in their backyard in Canada, "What would you think if I quit my job and I went back to India to learn music full time for one year?" Her mother's response was immediate and decisive, Kiran recalls, "She said, 'I'd think you were stupid.'"
Kiran's love of music had taken root as a child in the Indian community of Toronto, Canada, where her family had emigrated when she was nine. Families shared music from their homeland in small house concerts in basements and living rooms. Kiran had even performed as a child before this accepting audience. For her parents, though, this experience was just another part of their daughter's education into her culture as were formal classes in dance and music. For Kiran, however, something had been stirred that only full immersion into the musician's life could remedy.
When she finally boarded the jet that would take her to Bombay to study music, her parents had come round. "It was sort of reluctant support at that time," Kiran says. After a lot of arguments and a lot of crying, her parents realized that she was determined to do this. They, then, began to help her get ready. "They helped me look for a 220 volt iron, a 220 volt radio, and all sorts of things that I would need to make my one year there comfortable."
Kiran eventually spent many years studying classical music in Bombay with Padma Talwalkar, known all over India. Later, she studied with ghazal master, Vithal Rao, in Hyderabad, making ghazals the foundation of her repertoire.
During that first year, Kiran traveled across the Indian countryside with another South Asian woman from Toronto, collecting Punjabi folk songs from traditional singers in small villages there. "I constantly had this supportive companion with me," Kiran says. "It is so hard to travel as a woman alone in small villages. It can sometimes be unsafe."
Kiran and her friend had managed to acclimatize to the initial culture shock of living in Bombay and were becoming more accustomed to the lifestyle there when they decided to venture further afield. They, however, weren't prepared for what they found. Though Kiran herself speaks Urdu, Hindi, and Punjabi at home in Canada, she found communication in the villages to be a major problem. "In the villages, they speak a different dialect of Punjabi than I speak," she says. "I speak sort of urban Punjabi, and they speak rural Punjabi. So, sometimes it was very, very hard to get information."
That was especially true when Kiran and her friend tried to maneuver the complicated bus system in the countryside and often found themselves stranded. "We took a bus from one city to a village, and there we met with who we wanted to meet. The people in the villages were very kind and forced us to stay for lunch. We went to the bus stop, and we found that there was no bus back!"
Eventually, they did figure it out. "We had to ask a lot of people, and if you don't understand what they're saying, it can be just really tough. I remember it took us a half an hour or so just to figure out that in order to get back home, we'd have to take a bus to another smaller city and from there board a bus back home."
Their folk song collecting tour was unplanned, usually going from one village contact to another. "There was a constant meeting with people and saying, 'Do you know any other folk musicians that can meet?' Then, it was trying to phone them, and if they didn't have a phone, trying to phone any phone that was near them, like a neighbor's phone."
But the welcome in the villages when the locals knew she was a fellow singer was full of celebration. "When you landed in a place where people knew you were coming, they took care of you and helped a lot", she says
From that experience, Kiran gathered material and produced her first full-length album, Kashish or attraction in 2001. She has interpreted these folk songs and ancient ghazals her own way, layering them with traditional and non-traditional instrumentation. Even many of the ghazals she has recorded are complemented by her own original musical compositions. She now even is drawing from contemporary ghazal poets from the Punjabi Kalma da Kafla, a consortium of writers in Toronto.
Her second album, Beyond Boundaries, earned the 2004 Juno Award for Best World Music Recording. Currently, her third album, Kiran Ahluwalia, which came out in 2005, has two tracks with Cape Breton Celtic fiddler Natalie MacMaster.
Her parents now support her whole-heartedly. "So much so," Kiran says, "that my mother is my publicist for the South Asian media."