Knock! Knock! Whoís there? Itís the King of Saudi Arabia. Oh! Wait, itís the President of the France. Oh! Wait, now itís the President of the USA. Wait, now it is Ö
If the folks at the Rashtrapati Bhawan and PMO in India are somewhat guest-weary then it wouldnít be a big surprise. First it was INDIA EVERYWHERE, a lavishly planned and executed campaign blitz at the Annual Meeting of the World Economic Forum in Davos, Switzerland, which, based upon the media coverage did live up to the title. Then it was DESTINATION INDIA, when the powerful, the power seekers and the glamorous of the World opted to get a taste of Indian hospitality.
The first three months of this year has seen a bevy of world leaders visit India, which, perhaps, augurs well for the fortunes of India. January saw the King of Saudi Arabia Abdullah Bin Abdul-Aziz al Saud hobnobbing with Dr. Singh and being the chief guest at the Republic Day Parade.
President George W. Bush had perhaps one of his most successful foreign trips with a landmark nuclear agreement. Before that President Chirac was happy that for once USA was following France when he shook hands with the bespectacled Sikh PM. Franceís Council of State, the highest administrative body, was, on the other hand, not impressed and ruled after his visit that Sikhs still must remove their turbans for driverís license photos, ostensibly for public security reasons.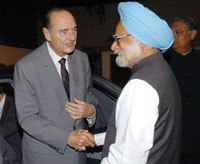 President Chirac wasnít the only one trying to make Bush follow him. Former President Clinton put in a cameo appearance visit in between the two presidential visits. He, perhaps, could claim to have nobler reasons as he announced plans to train nurses in HIV/AIDS care for his Foundationsí HIV/AIDS initiatives. Later he signed agreement in Islamabad to make low prices AIDS medicines and diagnostic tests available in Pakistan. Senator John Kerry, though, could claim to be the one to have started this catch-up game when he smilingly visited the PMO of India in January.
The post Bush New Delhi too was equally busy with welcome ceremonies. A Coalition of Willing leader, Mr. John Howard, the Australian Premier was the first one to follow the footsteps of Mr. Bush. A former leader of Coalition of un-Willing, Mr. Gerhard Schroeder too didnít want to be out done so he decided to pay Mr. Singh a visit, even though Germany now has a more Coalition friendly Chancellor.
Next to be seen with the distinguished economist of India was Mikhail Fradkov, the Prime Minister of Russia. Perhaps, Mr. Putin was busy elsewhere but still didnít want to be left out so sent his Premier to the city that Lutyens built.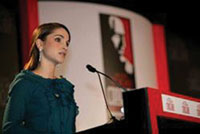 Some glamour, too, wasnít missing when in between these visits, Queen Rania Al-Abdullah of Jordan, came and addressed the leaders, opinion shapers and policy makers of India during the annual India Today Conclave.